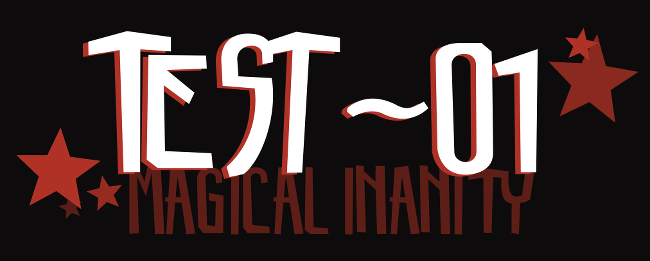 Magical Inanity - Test01
A downloadable game for Windows, macOS, and Linux
--- Contient du sang et des éléments de violence ! ---

--- CW : mild blood and violence ! ---

---
DURÉE / AVERAGE TIME

environ 10min / around 10mn
CONTENU / CONTENTS

3 décors, 4 illustrations, 4 fins / 3 BG, 4 CG, 4 endings
ÉPISODE SUIVANT / NEXT EPISODE

---
À PROPOS / ABOUT

🇫🇷 - Créé en débutant avec le logiciel Ren'Py, il a été réalisé au fur et à mesure de ce que j'apprenais, en trois jours. Ça ne vole donc pas très haut, mais comme on y trouve un ennemi remarquable, je me suis dit que ça valait toujours le coup d'être partagé.
Amateurs du mauvais goût ou de la procrastination, ce VN est pour vous.
🇬🇧 - First game I made in order to learn how to code with Ren'Py. It was done in three days, so it's nothing amazing, but since there's a remarquable enemy in it, I thought "Why not share it with people?".
Bad taste/procrastination lovers, this VN is for you.


* ( I finally did an english TL, hope it won't be too ugly since it's not my native language and I'm definitely NOT a translator... Please let me know if there's something really wrong ! :'D )

---
Au secours ! Je n'arrive pas à lancer le jeu !

Plusieurs solutions possibles à cela. Vous pouvez...
- le désintaller, puis le réinstaller après l'avoir à nouveau téléchargé ;
- vérifier que votre antivirus n'empêche pas l'exécution du jeu ;
- essayer sur un autre ordinateur ;
- vérifier que vous avez les permissions requises pour lancer le jeu, ou qu'il est bien exécutable en tant que programme